Okay, what else? Jim [Ed]'s birthday is the same as Elvis Presley's (Jan 8). He is the dude who should have been an original cast member in The Goonies, and his iPhone is his electronic best friend. He is a direct descendant of Tapley Holland who fought in the Battle of the Alamo. Jim [Ed] is completely opposed to double-dipping, and skinny dipping for that matter. He craves Sour Patch Kids more than chocolate, and would rather live with the McFlys than the Buellers.
There's no doubt this dude could eat tacos every single day of the week. He is unashamed of his vintage toy collection, the amazingly cool Indiana Jones shrine in his office, and the fact that he did the Truflle Shuffle at the Goonies house in Astoria, OR. If Jim [Ed] was a superhero, which is not entirely impossible, he would be Batman. The cape is doable if he could just get the iconic car. Speaking of cars, he would rather be driving the DeLorean time machine from Back To The Future instead of his Ford Focus.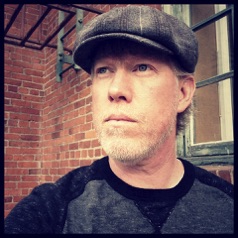 Jim [Ed] is creator of the whimsical and inspirational short film Jimmy's Time Traveler. He is also author of the book That Dang Red-Headed Preacher's Kid!—Episodes from My Whimsical Childhood, a funny, inspiring, and reflective memoir with a small side of irreverence. He has worked with people for over 29 years through non-profit organizations and church ministry, specializing in relational marketing and people management. Jim [Ed] is a strong believer in the power of "story"... He also advocates for children in poverty around the world through his work with Compassion International.
This self-described completist gets a kick out of persevering bicycle history by building and restoring 80s BMX bikes—under the banner "Gym Ed's Bike Shop." He also enjoys writing, picking, collecting, traveling, creative design, and listening to his growing vinyl record and cassette collection from the 70s and 80s.
Jim [Ed] is always anticipating the next big idea and adventure. He and his family live in the colorful state of Colorado, under the stunning views of the Rocky Mountains.